Road to Acceptance
Affordable In-Depth Guidance For
The Entire Application Cycle


Road to Acceptance helps premed students who are applying this cycle achieve their #1 goal: getting into medical school. By breaking down the details of the application process and providing actionable guidance on how to nail down your "why medicine", this course will help you go from overwhelmed and confused to confident and prepared this cycle.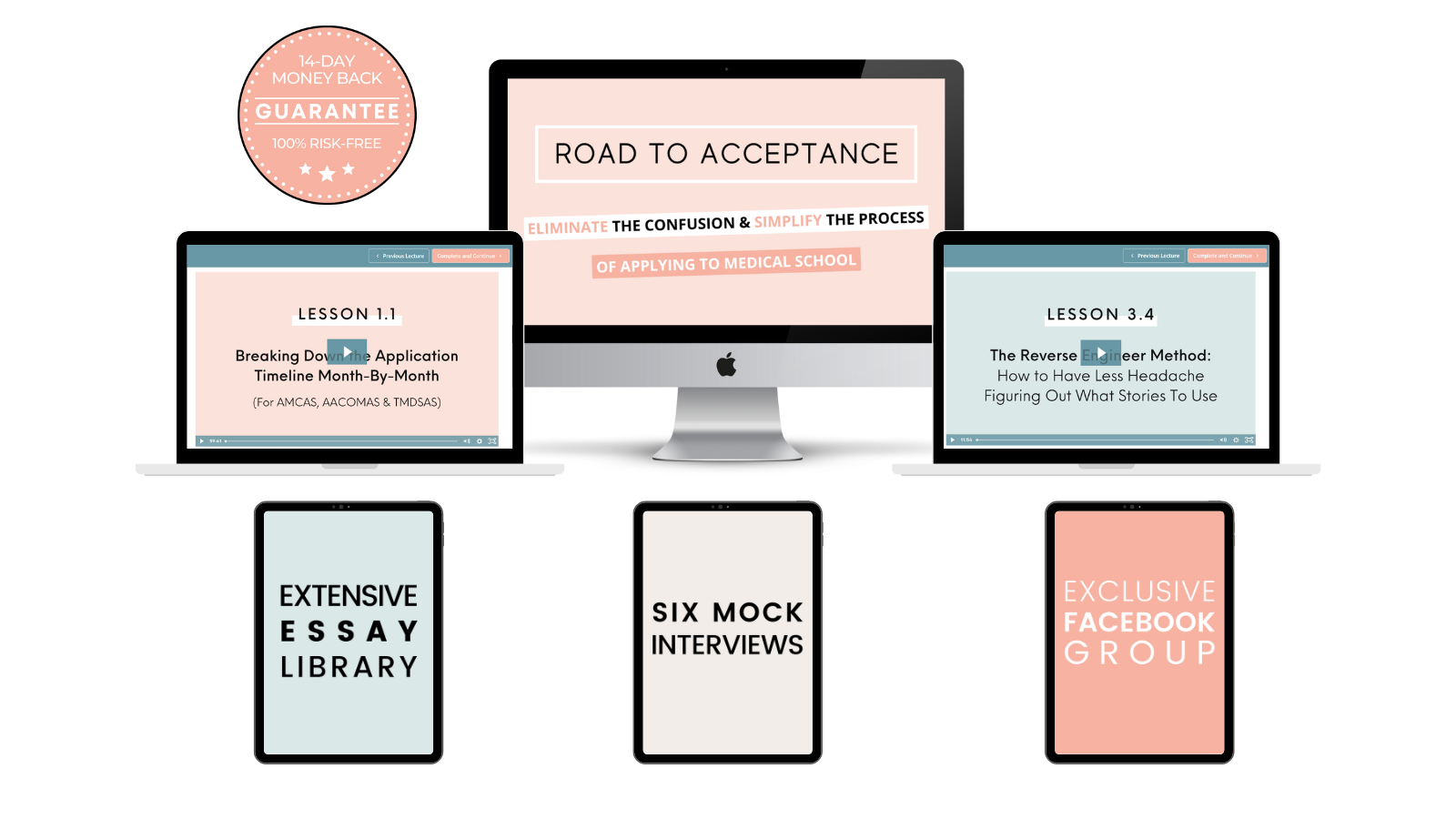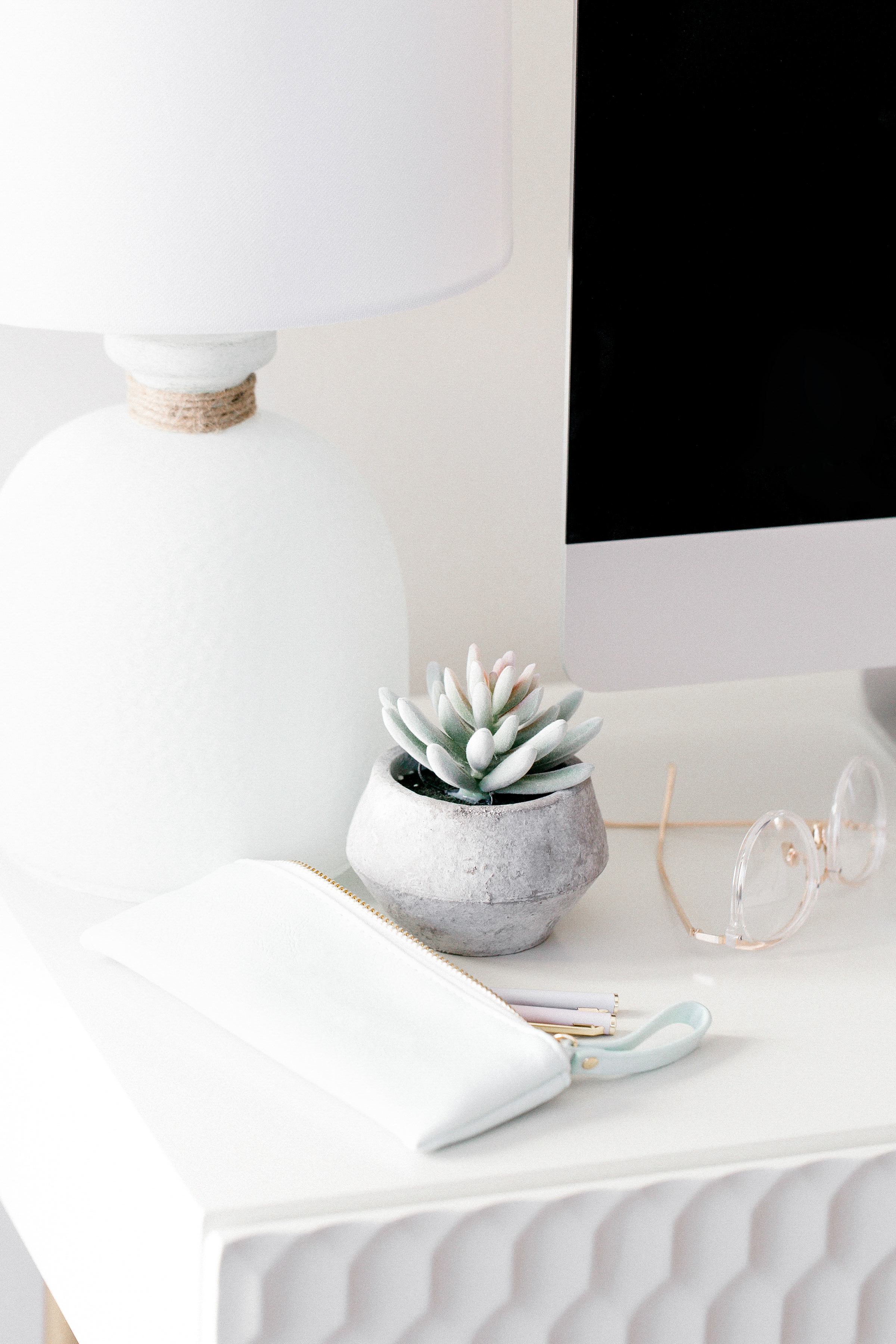 Before We Get Into The Juicy Details, Let's Talk About Who This Is For...
You're a premed student who is working hard AF towards the goal of applying to medical school. You constantly dream of the day that interview invites start rolling in and when you finally get that first medical school acceptance.
Whether You...
→ Are a premed who will be applying right out of undergrad for the first time, worried about juggling school, the MCAT, and submitting your applications on time.
→ Have had multiple gap years and/or will be reapplying to medical school after not getting in the first time. Unsure of how or whether to redo your essays from your first application.
→ Are a career changer and/or non-traditional premed student and don't know how to convey your life story and reason for pursuing medicine.
You're in the right place and I'm going to tell you exactly how Road to Acceptance will give you the tools, inspiration, and unparalleled support on your journey to successfully apply to medical school.

By the end of this program,
you will have:
✔ 

Complete clarity on all the steps you need to not only apply, but apply EARLY (and avoid missing something important)



✔

Craft a stellar personal statement that fully encapsulates your journey and passion for pursuing medicine (without an ounce of writer's block)



✔

Write extra-curricular essays that help you stand out from the crowd by showing your unique strengths and qualities as a human (not just a premed robot)



✔

Compile a strong school list (the right way) so you can *actually* cast a wide net and know you aren't wasting a single penny on applying to the wrong schools



✔

Write compelling secondary essays to each school that secure you interview invites (with a solid system to help you easily manage submitting 20+ secondaries)



✔

Nail down your MMI and traditional interviewing skills so you are ready to authentically present yourself on interview day (even if you are completely intimidated by the thought of interviews)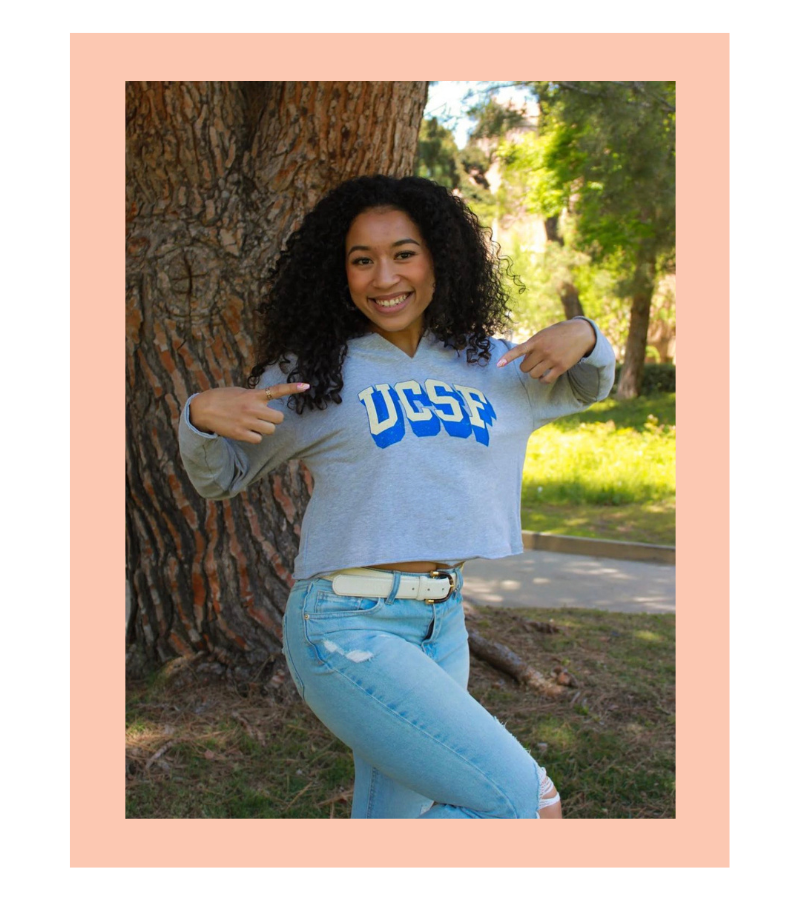 "Road to Acceptance literally shows you EVERYTHING you need to know about the medical school application process."
"Maggie is so helpful by taking you through each step without skipping a single detail. RTA answers every question you have about the med school app process, and even answers questions that you didn't know you have. Thus far in the application cycle, nothing has been a surprise because I have RTA to keep me ahead of the game.
My life experiences in general have played a big role in my success this application cycle, but it definitely would've been a bumpier road if I didn't have RTA to guide me. I've interviewed at/been accepted to ivy league schools and top 10 schools very early in the cycle, and I don't think I would have had the same success if I didn't understand the application process, and for that reason I owe it to RTA." 
Chynna S.
2022 Applicant (accepted to FIVE MD schools! She ultimately chose to attend UCSF and will be starting her first year!)

"Before Road to Acceptance, I was confused about what is required for the primary app, and I wasn't sure what exactly I needed to have apply early and have my app verified. I was also puzzled about how to tell my story in the personal statement and EC essays without sounding cliche.
Maggie demystified the application process by breaking down each step into bite-size, easy to follow modules and by creating a safe space to ask questions about anything. The modules provide concrete examples of what to do and what to avoid which really helped me feel less intimidated about writing my personal statement and EC essays. I also loved that Maggie allowed us to submit our work for review, since her feedback was super direct and easy to understand.
I was initially a bit concerned about the cost but I really appreciated being able to pay for the course in installments, and seeing all the amazing resources I got, I can say it was definitely worth the investment!
I would definitely recommend all the advice I have gotten this far from RTA to other premeds! I gained a lot of concrete advice on how to craft my stories creatively, and remain organized when managing multiple parts of the application process. While the application process is inevitably challenging, all the advice given in RTA can be applied to individuals from a variety of backgrounds."
- Mira D. (2023 Applicant)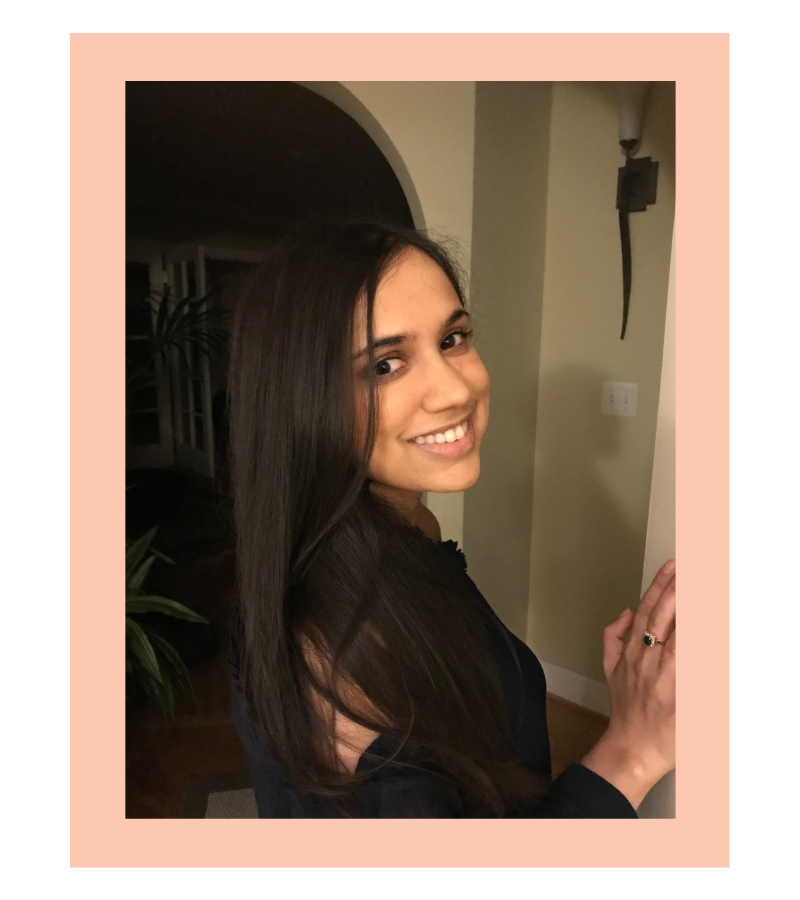 Road to Acceptance 
helps premed students who are applying this cycle achieve their #1 goal: getting into medical school. By breaking down the details of the application process and providing actionable guidance on how to nail down your "why medicine", this course will help you go from overwhelmed and confused to confident and prepared this cycle.
Implementation is the most important part of this program! So to make sure you reach the finish line, you'll get the following:
✅ SUCCESS PATH

The goal of Road to Acceptance is to map out the exact steps you need to take for success. You'll feel like you're getting the advice and support straight from the private companies that charge thousands!

✅ HOMEWORK

The vast majority of the lessons in this program have homework and guided workbooks to ensure you are implementing the advice every step of the way. 
✅ COMMUNITY
Who doesn't need more positive, collaborative, and uplifting premeds cheering them on every step of the way? You'll get access to the private FB group, full of all the other Road to Acceptance students!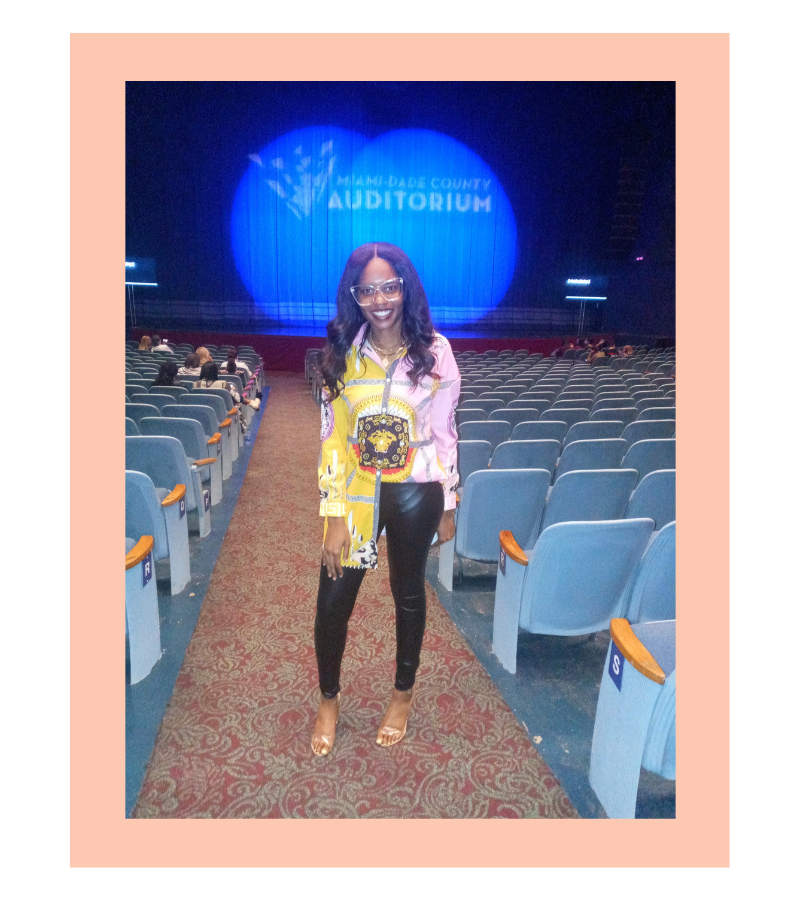 "Road to Acceptance has helped me become more confident in myself and my application in order to apply to medical school. Even though I didn't have the highest GPA, I was able to find schools where my GPA fit within their range and their mission coincided with mine. RTA also showed me that its not only about stats but about writing your story well along with your extracurriculars. With the help of Maggie and RTA I have learned so much about the application process especially for someone who did not have any guidance in this process. RTA literally walked through every step in the process and I am grateful for this program."
- Denise M. (2023 Applicant)
Sign up for the Road to Acceptance Today!
✔ 
7 in-depth modules 
with video trainings and explanations to walk you through the application timeline, primary applications, secondaries, and interviews.


✔
Access to templates, checklists, and workbooks
 (to learn *exact* system I used to make my application stand out).


✔
Lifetime access
to all the modules and videos (with actionable advice if you have to reapply).
↓↓↓
BONUSES!
↓↓


✔
A Private Facebook Community
to post your questions, wins, and ask for advice throughout the year (and meet some of your new premed besties) ($497 value)


✔
Extensive Essay Library
of personal statement and secondary essay examples from successful students. ($297 value) 


✔
6 Premade Practice Interviews
(3 traditional & 3 MMI) to record your own mock interviews and simulate your interview day experience! ($997 value)
✔
A comprehensive spreadsheet
 to organize and plan every (and I mean EVERY) phase of the application cycle! ($97 value)
You're a great fit for this program if:
You will be applying to medical school in the next year and you plan to submit your primary application early (in late May or June).

You plan to apply to medical school through AMCAS and/or AACOMAS. 

You're not sure about all the nitty gritty details of the application process, where to start when it comes to writing your essays, how to make a solid school list, etc. but can't afford to pay thousands for 1-on-1 support.

You've put in all the work up until now to be ready to apply. Now you just need a step-by-step plan to ensure you're maximizing every factor possible and have the best chance of success this cycle!
What This is Not:
This program does not include 1-on-1 feedback on essays. Students are more than welcome to post in the Facebook group and swap essays with each other (this is especially encouraged if you have diligently went through the modules and applied the advice!).
You WILL get Maggie's support with any questions you have along the way by asking in the Facebook group!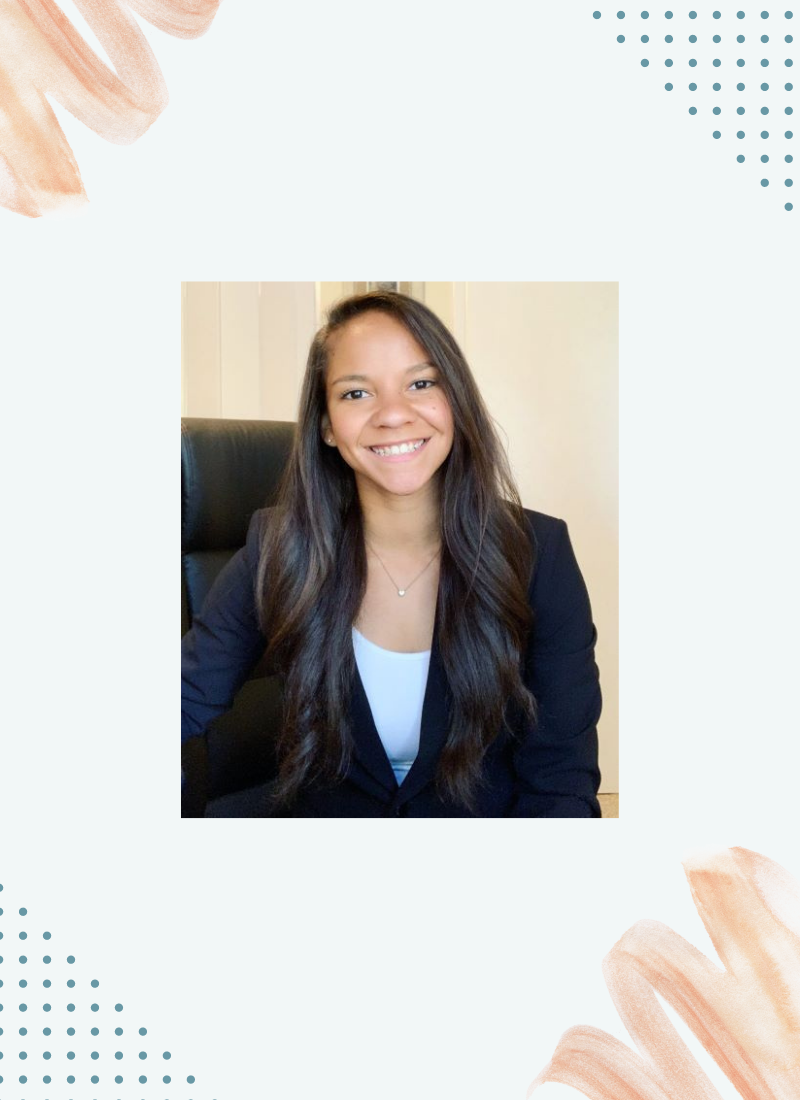 HAVE WE MET?
My name is Maggie, I'm 27 years old, and I'm a second year medical student at the University of Colorado! I first applied to medical school during the 2017 application cycle and legit had no idea what I was doing.


I figured out what I needed to do to take the MCAT, but the whole application process was still just a big jumble of confusion.


I managed to apply (albeit late) to four schools, got 1 interview at Case Western, got waitlisted and never ended up getting pulled off the waitlist.


Fast-forward three years later and I got my butt into gear, took the MCAT again because my first one expired (!!), and reapplied.


The second time around I applied to 28 schools, got 15 interview invites, and TEN acceptances. I am truly humbled and grateful because it seemed like the one goal l would never reach (I had a low GPA AND an institutional action).


Anyway, now it is my mission to help you all have the same success!

Refund Policy


I don't want anything to stop you from joining Road to Acceptance and knowing all you need to know in order to successfully apply early and put your best foot forward this application cycle. 
That's why I offer a 14-day refund policy. 
Take the first two modules for a test run, try the strategies inside, and if the program isn't for you, you can get all of your money back.
If you try out the first two modules, do the work and you're still not satisfied, you can show me your work within 14 days of purchase as long as you haven't clicked past module 2 and I'll gladly give you a refund.  
You can view my refund policy here - https://itslifebymaggie.com/refund-policy/